Meet our Veterinary Partners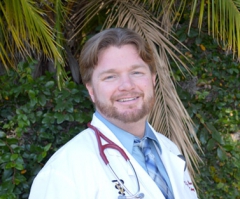 Thomas J. Morrison DVM, ACVIM
Founder, Veterinarian (Cardiology)
Doctor T.J. Morrison, Founder of Coast to Coast Cardiology, is honored to provide cardiology specialty care to all animals on behalf of their human companions and referring veterinarians. The team effort, which includes the clients, their family veterinarian, fellow veterinary specialists, and Doctor Morrison, allows for the best possible cardiac care for our beloved animals. Doctor Morrison has practiced Veterinary Cardiology on the Atlantic, Pacific, and Caribbean Coasts.
Doctor Morrison received his Bachelor of Science Degree from Boston College and his Doctorate of Veterinary Medicine from Ross University School of Veterinary Medicine. Doctor Morrison completed his residency in Veterinary Cardiology at Colorado State University School of Veterinary Medicine. His intense training during this time focused on advanced diagnostic interpretation of electrophysiology, echocardiography, and especially minimally-invasive interventional procedures, commonly performing patent ductus arteriosus occlusions, balloon valvuloplasties and pacemaker implantation and interrogations. He obtained Diplomate status in the American College of Veterinary Internal Medicine, specializing in Cardiology.
Doctor Morrison continued his practice of Veterinary Cardiology in Denver, Colorado, followed by a move to Southern California where he founded Coast to Coast Cardiology, practicing cardiology out of a variety of state-of-the-art veterinary referral hospitals. In 2013, he was appointed locum Veterinary Cardiology Clinician at the University of California, Davis, School of Veterinary Medicine Teaching Hospital, overseeing the Cardiology Department, instructing and teaching cardiology residents and veterinary students.
His other interests include running, having successfully completed the 2012 Boston Marathon, back-country telemark skiing, having camped throughout Colorado's 10th Mountain Division Hut system, and learning to surf and fly.
For more information about Dr. Morrison and his team of cardiologists and staff, please go to https://www.cccvetservice.com/
Learn More
Melissa Hall
DVM, DACVD
Dr. Melissa Hall graduated from the School of Veterinary Medicine at UC Davis in 2006. While attending UC Davis, Dr. Hall was involved in many clubs and received numerous scholarships. She served as the class president for several years as well as the President of the Veterinary Business Club. Upon graduation, Dr. Hall completed a 12-month rotating internship with the Florida Veterinary Specialists and the North Bay Animal and Bird Hospital in Tampa, FL.
During her earlier studies, Dr. Hall developed a passion for all things dermatology. She accepted a residency position in veterinary dermatology in 2007 at Animal Dermatology Clinic in Tustin, CA and achieved Diplomate status in 2011.
In her spare time, Dr. Hall enjoys yoga, knitting, travel and spoiling her four-legged children.
For more information about Dr. Hall and her team of dermatologists and staff, go to https://www.animaldermatology.com/

Learn More